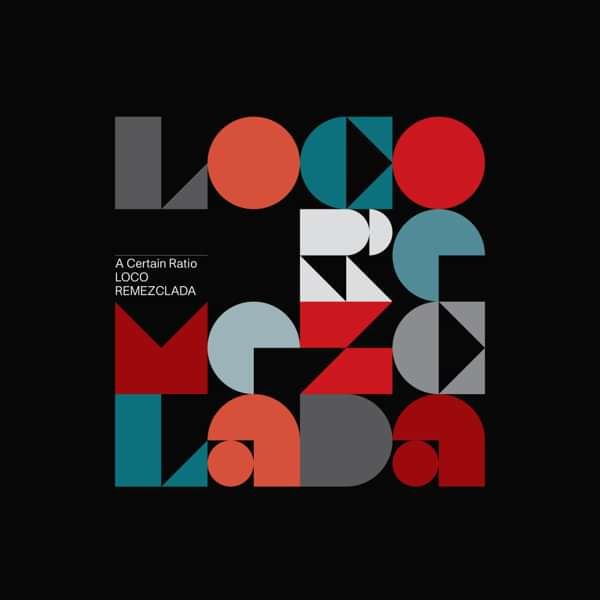 A Certain Ratio - Loco Remezclada
This ACR release compiles remixes of tracks from the band's highly acclaimed 2020 studio album ACR Loco. Featuring all new remixes from Lonelady, Skream, Maps, Number, Lounge Society and more. Also included is a Mr Dan remix of "Down & Dirty," a song originally released earlier this year on ACR:EPA featuring one of the last vocal tracks that the late Denise Johnson ever recorded.
A Certain Ratio was one of the first groups to sign to the legendary Factory Records in Manchester. Whilst many people credit New Order and The Happy Mondays as the groups who brought dance music into the sound of Manchester, it is in fact A Certain Ratio who were there in the beginning. Formed in 1978, the initial line-up comprised Simon Topping (vocals), Martin Moscrop (guitar and trumpet), Peter Terrell (tape loops) and Jeremy Kerr (bass). Their debut seven-inch "All Night Party" was Factory Records' fifth release. Soon after this Donald Johnson joined on drums.
The sparkle vinyl version of Loco Remezclada includes an additional 12" (half pressed on clear sparkle vinyl / half on violet sparkle vinyl - packed randomly) with remixes of the singles "Always in Love" and "Friends Around Us" which will not be available on the clear vinyl version. The sparkle vinyl is limited to 1,500 copies worldwide.
From $14.98
Select from options below to add to basket
A Certain Raio - Loco Remezclada Limited Edition Clear 2xLP

Side A

Down & Dirty (Mr Dan Remix)
Friends Around Us (Lou Hayter Remix)
Bouncy Bouncy (Chop & Drop LoneLady Mix)

Side B

Yo Yo Gimix (The Orielles Remix)
Supafreak (Massey Mix)
Always in Love (Skream Remix)

Side C

Family (Finger Tip Mix Suite)
Get A Grip (Maps Remix)

Side D

Berlin (Cosmodelica Remix)
What's Wrong (SYT DMT Mix)
Taxi Guy (Number Rework)

A Certain Ratio - Loco Remezclada CD

Down & Dirty (Mr Dan Remix)
Friends Around Us (Lou Hayter Remix)
Bouncy Bouncy (Chop & Drop LoneLady Mix)
Yo Yo Gimix (The Orielles Remix)
Supafreak (Massey Mix)
Always in Love (Skream Remix)
Family (Finger Tip Mix Suite)
Get A Grip (Maps Remix)
Berlin (Cosmodelica Remix)
What's Wrong (SYT DMT Mix)
Taxi Guy (Number Rework)
Always in Love (Muddy Feet Remix)
Friends Around Us (The Lounge Society Remix)

A Certain Ratio - Loco Remezclada Limited Edition Sparkle 2xLP w/ 12"

Side A

Down & Dirty (Mr Dan Remix)
Friends Around Us (Lou Hayter Remix)
Bouncy Bouncy (Chop & Drop LoneLady Mix)

Side B

Yo Yo Gimix (The Orielles Remix)
Supafreak (Massey Mix)
Always in Love (Skream Remix)

Side C

Family (Finger Tip Mix Suite)
Get A Grip (Maps Remix)

Side D

Berlin (Cosmodelica Remix)
What's Wrong (SYT DMT Mix)
Taxi Guy (Number Rework)

Available on 3xLP version: Side E

Always in Love (Muddy Feet Remix)

Side F

Friends Around Us (The Lounge Society Remix)