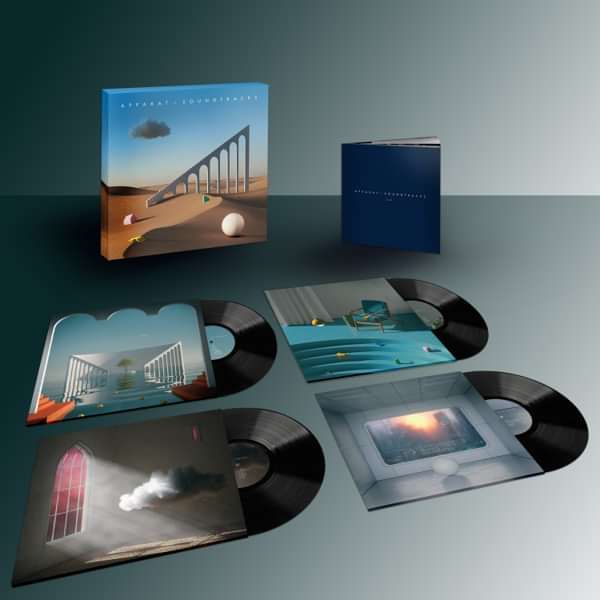 Apparat - Soundtracks (Limited Edition Vinyl Boxset)
CAPRI-REVOLUTION A1 Silia A2 Plidoh A3 Neruvola A4 Licidana A5 Silia Reprise A6 La Gravidanza A7 Harper Caprira B1 Electricity B2 EC Blip B3 Paestrum Neruvola B4 Reconciliation B5 Goldkind B6 Aracneae
STAY STILL A1 The Lake A2 Suicide A3 Fire A4 Scissors B1 Bad Kingdom (Lulu's Version) B2 Marlene's Birthday B3 Ant to End
DÄMONEN A1 Tolga A2 Maleachi A3 Joel A4 Habakuk A5 Hosea A6 Micha B1 Sacharja B2 Hosea, Next Level B3 Jona B4 Fiebertraum B5 Amos
EQUALS SESSIONS A1 Glass A2 Love Theme (live in Paris) A3 Slice Jam (live in Paris) A4 Sad Mug A5 Infected B1 Big Romance B2 Dark Anthem (live in Paris) B3 Knowing B4 Escape From Den B5 A Nightmare B6 The Past
Mute are excited to announce the April 16th release of Apparat's Soundtracks, a limited edition vinyl boxset comprised of the successive releases Capri-Revolution, Stay Still, Dämonen and Equals Sessions. Released digitally throughout 2020, Apparat's Soundtrack series will now be available on vinyl for the first time. This collection follows his 2019 GRAMMY nomination for the Best Dance/Electronic Album with LP5.
Capri-Revolution, the Italian-language film directed by Mario Martone, won Best Soundtrack at the Venice Film Festival in 2019. The soundtrack for Stay Still, an independent German/Italian film directed by Elisa Mishto, includes a new version of the popular Moderat song "Bad Kingdom." Dämonen is based on a theatrical production of Dostoevsky's Demons. It was originally performed live and later re-arranged with frequent collaborator Philipp Thimm. And lastly, the fourth and final chapter of the Soundtracks series is Equals Sessions, from the American film Equals starring Kristen Stewart directed by Drake Doremus.
The set will be packaged in a 2 piece box with a 16-page booklet and artwork by George Tyebcho and Carsten Aermes.