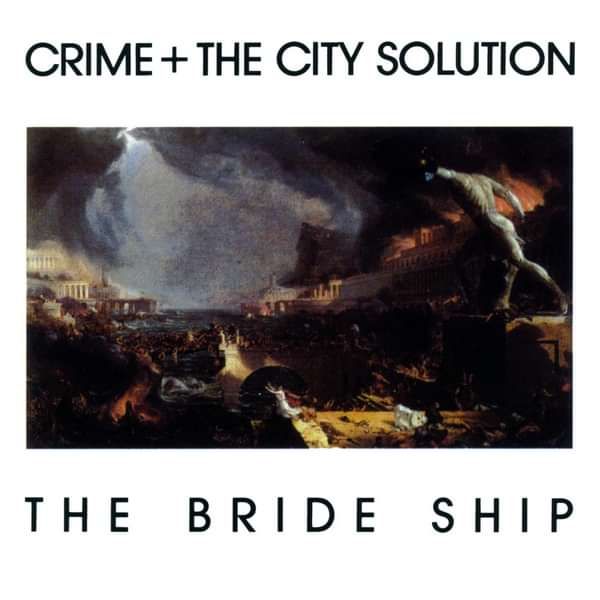 Crime & the City Solution - The Bride Ship
Mute is excited to announce the reissue of Crime & the City Solution's third studio album The Bride Ship on limited edition white vinyl and CD. Restored from the original masters and re-cut in 2022, the vinyl will be limited to 1,000 copies worldwide.
A band out of time, Crime & the City Solution were perennial outsiders who could not rest in their native Australia, and instead found inspiration in the colder climes of London and Berlin. Their mesmeric, expressive music evolved through many incarnations and a great deal of adversity. The first incarnation of the band appeared in 1977/78, in the midst of Australia's nascent punk scene and re- grouped in London in 1984. After the departure of the Rowland brothers and Epic Soundtracks, the line-up settled upon the making of Shine with singer Simon Bonney, Einstürzende Neubauten's guitarist Alexander Hacke, DAF's synth player Chrislo Haas, jazz bassist Thomas Stern, violinist Bronwyn Adams and Bad Seed's Mick Harvey on drums.
Originally released in 1989, The Bride Ship was a creative turn for Crime. Using the sea as the ultimate metaphor for freedom, the album highlighted Bonney's skill as a lyricist and sense of melody. The crashing guitars and drums propelled a sprawling narrative which concerned itself increasingly with the universal as opposed to the personal.
The Shadow Of No Man
The Greater Head
Stone
The Dangling Man
Keepsake
The Bride Ship
Free World
New World
*CD includes additional tracks "Three / Four" and "The Bride Ship (Alternative Version)"
From $12.74
Select from options below to add to basket