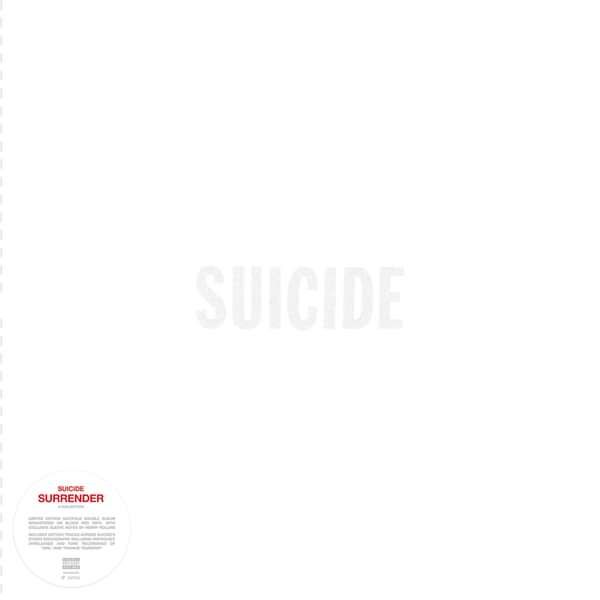 Suicide - Surrender: A Collection
This item is a pre-order and expected to ship for release March 25, however please note that this is pending no unexpected delays and may change as a result of production, shipping or Covid-19
"SUICIDE was the band that refused to die. The concept was so powerful that it kept Vega and Rev on a sporadic collision course of stages and studios for over forty years." –HENRY ROLLINS, Surrender
Mute / BMG announce SURRENDER: A COLLECTION by influential electronic-punk duo SUICIDE on 18th March 2022. This brand new, remastered collection spans Alan Vega & Marty Rev's forty year career and serves as an introduction to their raw, eclectic and inspiring catalogue.
Although the band barely received any credit during their career, SUICIDE are cited as one of the most inspirational bands of the 1970s, influencing the likes Soft Cell, Depeche Mode and The Jesus And Mary Chain, whilst garnering fans in Nick Cave, Jim Thirlwell, M.I.A., Spiritualized, Lydia Lunch, Bobby Gillespie and Savages to name a few.
"SUICIDE made some of the coolest, most uncompromising music ever inflicted on our species. This gathering of songs is not a "best of" nor is it a "definitive" all-you-need-to-know compilation. It is an introduction that will hopefully compel you to explore the albums." –HENRY ROLLINS, Surrender Presented as a limited edition double album, on 140g Blood Red Vinyl in an embossed outer and mirror board inner gatefold, this unique package also contains a set of brand new, extensive and extraordinary liner notes by long serving fan/collaborator and NYC stalwart Henry Rollins.
The tracklisting, collated by Marty Rev, Vega's partner, Liz Lamere, and Rollins, includes tracks from their classic debut album, SUICIDE (1977), to their final outing, AMERICAN SUPREME (2002). The LP also features two brand new, unheard tracks "Girl" (Unreleased Version) and "Frankie Teardrop" (First Version). The package has been full remastered by Denis Blackham at Skye Mastering and is also available as a 1CD digipack and digitally.
From $18.98
Select from options below to add to basket
Suicide - Surrender: A Collection CD

Single CD digipak format.

Dominic Christ
Diamonds, Fur Coat, Champagne
Harlem
Rocket USA
Cheree
Dream Baby Dream
Touch Me
Ghost Rider
Mr. Ray
Surrender
Why Be Blue?
Wrong Decisions
Dachau, Disney, Disco
Radiation
Frankie Teardrop (First Version)*

Suicide - Surrender: A Collection (Limited Edition Blood Red Vinyl)

SIDE A

Dominic Christ
Diamonds, Fur Coat, Champagne
Harlem
Rocket USA

SIDE B

Cheree
Dream Baby Dream
Touch Me
Ghost Rider
Mr. Ray

SIDE C

Surrender
Why Be Blue?
Wrong Decisions
Dachau, Disney, Disco

SIDE D

Radiation
Girl (Unreleased Version)^
Frankie Teardrop (First Version)*