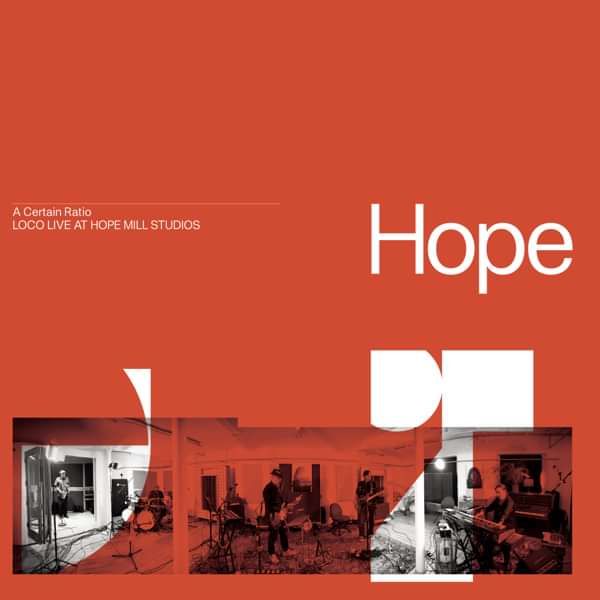 A Certain Ratio - Loco Live at Hope Mill Studios
A Certain Ratio presents the recording of Loco Live at Hope Mill Studios, limited edition red vinyl pressing is exclusive to Bandcamp and Mute Bank while the CD version is available from all retailers and packaged in an eco-friendly wallet with sleeve notes.
The session was originally recorded as a live stream performance of the band's sensational 2020 album ACR Loco. After a 12 year album hiatus, ACR Loco was created by a confident and revitalized ACR, who jumped back into the studio following their most successful tour in over 20 years. In the lead up to the release, ACR filmed and recorded this live session at the heart of the Manchester music scene within Hope Mill Studios.
Friends Around Us (Live at Hope Mill Studios)
Bouncy Bouncy (Live at Hope Mill Studios)
Yo Yo Gi (Live at Hope Mill Studios)
Supafreak (Live at Hope Mill Studios)
Always In Love (Live at Hope Mill Studios)
Family (Live at Hope Mill Studios)
Get A Grip (Live at Hope Mill Studios)
Berlin (Live at Hope Mill Studios)
What's Wrong (Live at Hope Mill Studios)
Taxi Guy (Live at Hope Mill Studios)
From $14.98
Select from options below to add to basket
A Certain Ratio - Loco Live at Hope Mill Studios CD

A Certain Ratio presents the recording of Loco Live at Hope Mill Studios, limited edition red vinyl pressing is exclusive to Bandcamp and Mute Bank while the CD version is available from all retailers and packaged in an eco-friendly wallet with sleeve notes.

The session was originally recorded as a live stream performance of the band's sensational 2020 album ACR Loco. After a 12 year album hiatus, ACR Loco was created by a confident and revitalized ACR, who jumped back into the studio following their most successful tour in over 20 years. In the lead up to the release, ACR filmed and recorded this live session at the heart of the Manchester music scene within Hope Mill Studios.

Friends Around Us (Live at Hope Mill Studios)
Bouncy Bouncy (Live at Hope Mill Studios)
Yo Yo Gi (Live at Hope Mill Studios)
Supafreak (Live at Hope Mill Studios)
Always In Love (Live at Hope Mill Studios)
Family (Live at Hope Mill Studios)
Get A Grip (Live at Hope Mill Studios)
Berlin (Live at Hope Mill Studios)
What's Wrong (Live at Hope Mill Studios)
Taxi Guy (Live at Hope Mill Studios)

A Certain Ratio - Loco Live at Hope Mill Studios Vinyl

On limited edition red vinyl exclusive to Bandcamp and Mute Bank.

A Certain Ratio presents the recording of Loco Live at Hope Mill Studios, limited edition red vinyl pressing is exclusive to Bandcamp and Mute Bank while the CD version is available from all retailers and packaged in an eco-friendly wallet with sleeve notes.

The session was originally recorded as a live stream performance of the band's sensational 2020 album ACR Loco. After a 12 year album hiatus, ACR Loco was created by a confident and revitalized ACR, who jumped back into the studio following their most successful tour in over 20 years. In the lead up to the release, ACR filmed and recorded this live session at the heart of the Manchester music scene within Hope Mill Studios.

Friends Around Us (Live at Hope Mill Studios)
Bouncy Bouncy (Live at Hope Mill Studios)
Yo Yo Gi (Live at Hope Mill Studios)
Supafreak (Live at Hope Mill Studios)
Always In Love (Live at Hope Mill Studios)
Family (Live at Hope Mill Studios)
Get A Grip (Live at Hope Mill Studios)
Berlin (Live at Hope Mill Studios)
What's Wrong (Live at Hope Mill Studios)
Taxi Guy (Live at Hope Mill Studios)