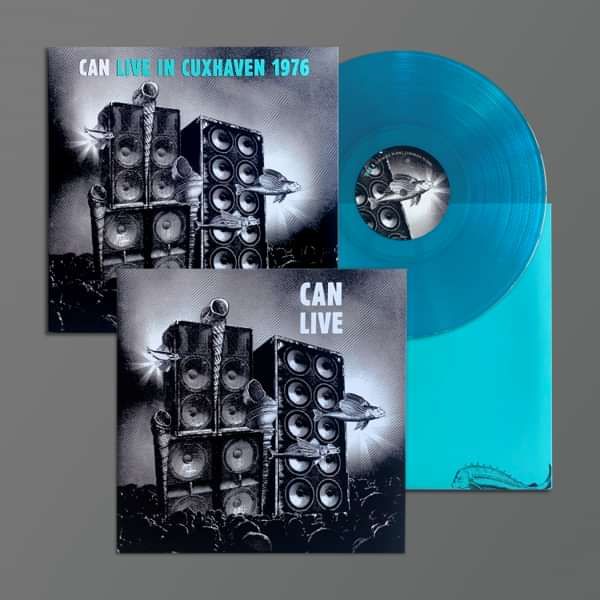 Can - Live in Cuxhaven 1976 (Limited Edition Curacao Blue Vinyl)
Cuxhaven 76 Eins
Cuxhaven 76 Zwei
Cuxhaven 76 Drei
Cuxhaven 76 Vier
Mute is excited to announce the release of Can's Live in Cuxhaven 1976, the third in a series of Can live concerts available in full for the first time on limited edition curacao blue vinyl, CD and digital formats. Both physical formats include booklets with extensive sleeve notes by journalist/author Pascal Bussy.
Originally recorded on tape, this carefully restored live album comprises the 1976 show in the format of a story with a beginning, middle and end, bringing Can's performance to life. The series was overseen by founding member Irmin Schmidt and producer/ engineer René Tinner, who delicately worked on restoring the archival recordings to the best quality for current modern technology. These albums have been released alongside a succession of interviews discussing the band's live shows. The YouTube series comprise interviews with Pascal Bussy, Mute's Daniel Miller, music critic Nick Kent, Primal Scream's Bobby Gillespie, and Andy Hall and René Tinner who were both involved with recording Can's live shows.
Can's powerful influence has never diminished, and their indelible mark is apparent in the bands who freely acknowledge their importance - from Portishead, James Murphy, Sonic Youth, New Order, Factory Floor, Public Image Ltd, Mogwai, Madlib and Radiohead - as well as across other disciplines such as visual art and literature.