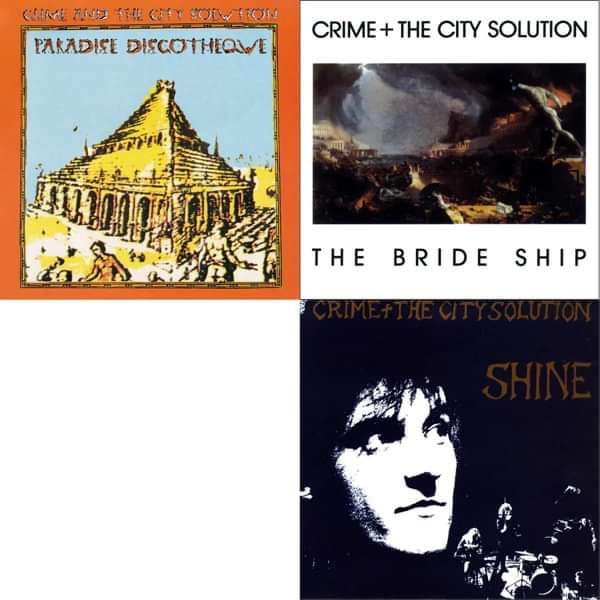 Crime & the City Solution - Color Vinyl Reissue Bundle: Shine, The Bride Ship & Paradise Discotheque
Orders placed after 2/20 will ship out by 3/10
Save over 20% on this bundle preorder including three color vinyl reissues from Crime & the Solution. All unavailable on vinyl since 1994, restored from the original masters and re- cut in 2022 and limited to 1000 copies worldwide.
Shine, Crime's second studio album, reissued on limited edition gold vinyl -The Bride Ship, Crime's fourth studio album, reissued on white vinyl
Paradise Discotheque, Crime's fifth studio album, reissued on transparent orange vinyl
A band out of time, Crime & the City Solution were perennial outsiders who could not rest in their native Australia, and instead found inspiration in the colder climes of London and Berlin. Their mesmeric, expressive music evolved through many incarnations and a great deal of adversity. The first incarnation of the band appeared in 1977/78, in the midst of Australia's nascent punk scene and re- grouped in London in 1984. After the departure of the Rowland brothers and Epic Soundtracks, the line-up settled upon the making of Shine with singer Simon Bonney, Einstürzende Neubauten's guitarist Alexander Hacke, DAF's synth player Chrislo Haas, jazz bassist Thomas Stern, violinist Bronwyn Adams and Bad Seed's Mick Harvey on drums.
$84.00
Select from options below to add to basket
This bundle also includes:

Crime & the City Solution - The Bride Ship (Limited Edition White Vinyl)

This bundle also includes:

Crime & the City Solution - Shine (Limited Edition Gold Vinyl)

Vinyl orders placed after 2/13 will ship out by 3/10

This bundle also includes:

Crime & the City Solution - Paradise Discotheque (Limited Edition Orange Vinyl)