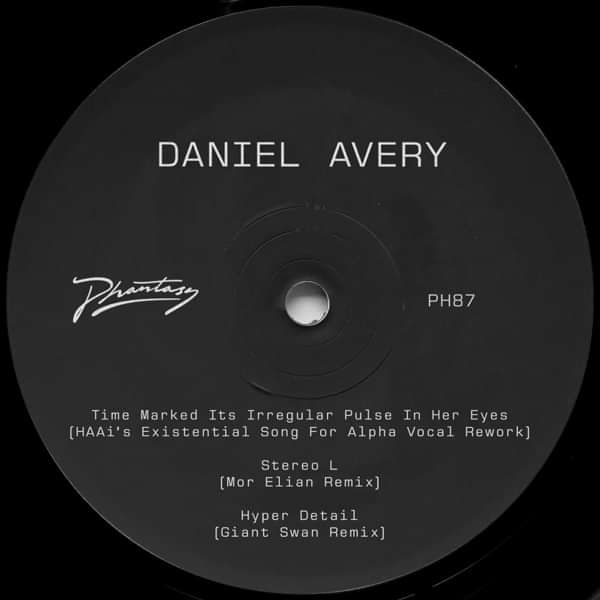 Daniel Avery - Song For Alpha Remixes Bundle
Purchase all three remixes together and get 15% off.
$28.78
Select from options below to add to basket
This bundle also includes:

Daniel Avery - Song For Alpha Remixes One

Citizen // Nowhere (Manni Dee Remix)
Glitter (Anastasia Kristensen Remix)
Diminuendo (Patrick Russell Remix)

The frosty melancholy of Citizen // Nowhere is reworked by London producer Manni Dee into something altogether monstrous. Introducing itself with a kick drum powerful enough to level a warehouse, and only getting more urgent from there forward, Dee's remix blends a knowing rave glint in the eye with a nonetheless uncompromising stance.

The Copenhagen-via-Moscow producer Anastasia Kristensen immediately justifies her status as a rapidly rising talent on the scene, locking into a delicate yet no less powerful groove for her sparkling remix of Glitter. Seamlessly heightening the almost meditative qualities of Avery's original, she weaves a blissful rhythmic trip, taking in razor-sharp percussions and spectral dub techno.

A longstanding fixture on the Midwest US rave scene, Patrick Russell applies his typical grit to 'Song For Alpha's firmly dancefloor focused centrepiece, Diminuendo. In subtly shifting the focus to the track's passages of overwhelming feedback, he sculpts a black hole of snarling electro and piston-like breaks, sure to prove an inviting wormhole to those willing to surrender further, deeper and darker.

This bundle also includes:

Daniel Avery - Song for Alpha Remixes Two

Daniel Avery - Diminuendo (Luke Slater Remix)
Daniel Avery - Projector (Obscure Shape & SHDW Remix)
Daniel Avery - Days From Now (Richard Fearless Remix)

Luke Slater takes care of the album's high-tempo centrepiece, 'Diminuendo', the obvious choice to take an already pummelling rave highlight in a direction that arguably hits even harder without sacrificing anything cerebral; Slater's dense, swarming synths wrap around the original with catharsis.

German duo Obscure Shape & SHDW twist 'Projector' into an irresistible, warehouse-tooled rave weapon, transforming the understated source material into a groove-focused anthem that recalls the no-nonsense spirit of nineties rave.

Avery's studio neighbour and partner in PSSU, Richard Fearless offers up the most brooding cut with his take on 'Days From Now', delivering a texturally rich and boldly minimal deconstruction that oscillates between industrial gristle and weightless suspense, ultimately shining light on a creeping, patient melody.

This bundle also includes:

Daniel Avery - Song For Alpha Remixes Three

A1 - Daniel Avery - Time Marked It's Irregular Pulse In Her Eyes (HAAi's Existential Song For Alpha Vocal Rework) B1 - Daniel Avery - Stereo L (Mor Elian Remix) B2 - Hyper Detail (Giant Swan Remix)

Limited edition clear vinyl. Only 300 copies.