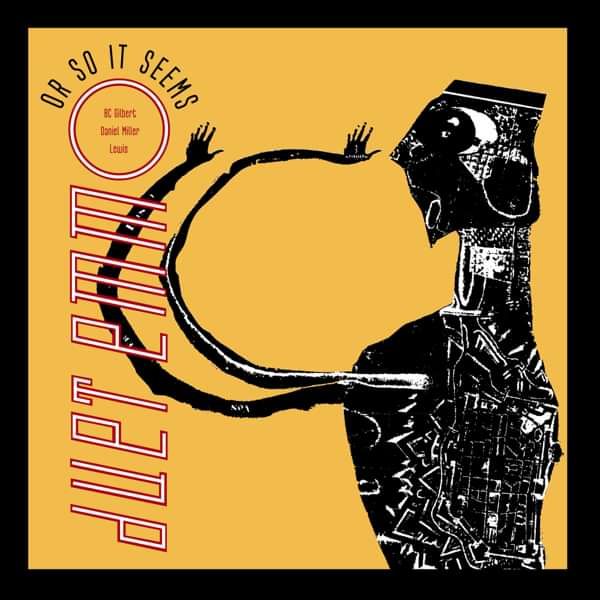 Duet Emmo - Or So It Seems (Remastered)
Mute is excited to announce the reissue of Duet Emmo's Or So It Seems, out August 19th on limited edition double white vinyl and CD. Newly remastered by Stefan Betke (aka Pole) from the original tapes.
Duet Emmo is the legendary collaboration between Bruce Gilbert and Graham Lewis both of Wire and Dome) and Daniel Miller (The Normal and founder/owner of Mute). Or So It Seems... was originally released in 1983, and was the act's only release. The result was the perfect amalgamation of Miller's hard-line electronics and Gilbert and Lewis's abstract and sparse textures, exhibiting why the anagrammatic combination of Dome and Mute was a fitting name for this project.
The limited edition white vinyl is packaged in a gatefold jacket with original artwork and includes a high definition download code.
Hill Of Men
Or So It Seems
Friano
The First Person
A.N.C.
Long Sledge
Gatemmo
Last's Card
Heart Of Hearts (Or So It Seems)
From $14.98
Select from options below to add to basket
Duet Emmo - Or So It Seems (Remastered) CD

Mute is excited to announce the reissue of Duet Emmo's Or So It Seems, out August 19th on limited edition double white vinyl and CD. Newly remastered by Stefan Betke (aka Pole) from the original tapes.

Duet Emmo is the legendary collaboration between Bruce Gilbert and Graham Lewis both of Wire and Dome) and Daniel Miller (The Normal and founder/owner of Mute). Or So It Seems... was originally released in 1983, and was the act's only release. The result was the perfect amalgamation of Miller's hard-line electronics and Gilbert and Lewis's abstract and sparse textures, exhibiting why the anagrammatic combination of Dome and Mute was a fitting name for this project.

The limited edition white vinyl is packaged in a gatefold jacket with original artwork and includes a high definition download code.

Hill Of Men
Or So It Seems
Friano
The First Person
A.N.C.
Long Sledge
Gatemmo
Last's Card
Heart Of Hearts (Or So It Seems)

Duet Emmo - Or So It Seems (Remastered) [Limited Edition White 2xVinyl]

On limited edition double white vinyl.

Mute is excited to announce the reissue of Duet Emmo's Or So It Seems, out August 19th on limited edition double white vinyl and CD. Newly remastered by Stefan Betke (aka Pole) from the original tapes.

Duet Emmo is the legendary collaboration between Bruce Gilbert and Graham Lewis both of Wire and Dome) and Daniel Miller (The Normal and founder/owner of Mute). Or So It Seems... was originally released in 1983, and was the act's only release. The result was the perfect amalgamation of Miller's hard-line electronics and Gilbert and Lewis's abstract and sparse textures, exhibiting why the anagrammatic combination of Dome and Mute was a fitting name for this project.

The limited edition white vinyl is packaged in a gatefold jacket with original artwork and includes a high definition download code.

Hill Of Men
Or So It Seems
Friano
The First Person
A.N.C.
Long Sledge
Gatemmo
Last's Card
Heart Of Hearts (Or So It Seems)