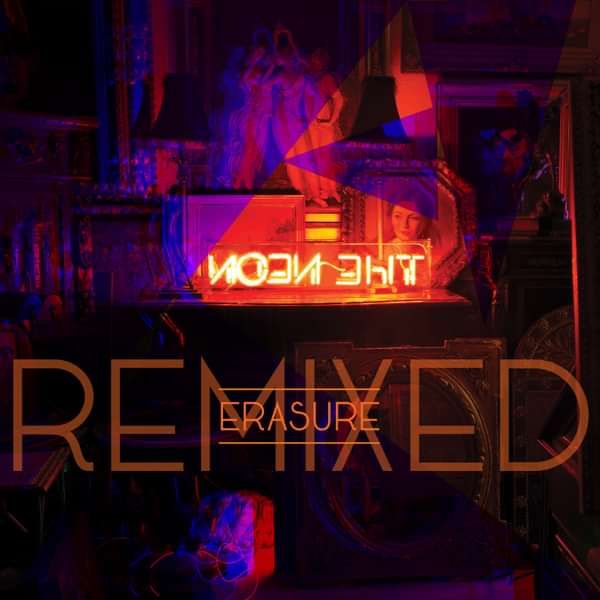 Erasure - The Neon Remixed
Mute is excited to announce the release of Erasure's new compilation The Neon Remixed. Out July 30th on double color vinyl for the first pressing only (Disc 1: transparent amber, Disc 2: yellow glow), double CD with mirror board sleeve / 8-page booklet and digital formats.
The Neon Remixed sees a star-studded selection of artists reworking the original Erasure album The Neon the band's highest charting album in 26 years.
The collection includes Secrets, a brand new track alongside interpretations of the original album from Kim Ann Foxman, Hifi Sean, Octo Octa, Paul Humphreys (OMD), Gareth Jones, Brixxtone, Theo Kottis and more.
Vinyl includes high definition audio download of the full album remixes.
Erasure will announce a worldwide tour in support of The Neon campaign this summer.
From $19.98
Select from options below to add to basket
Erasure - The Neon Remixed - Amber & Yellow 2xLP

Side A

Secrets
Hey Now (Think I Got A Feeling) (Hifi Sean Remix)
Nerves of Steel (Andy Bell & Gareth Jones' Sapphire and Steel Mix)

Side B

Fallen Angel (Saint Remix)
No Point in Tripping (808 BEACH Extended Remix)
Shot A Satellite (GRN Extended Remix)

Side C

Tower of Love (BSB's Stella Polaris Remix)
Diamond Lies (Armageddon Turk Remix)
New Horizons (Matt Pop Extended Remix)

Side D

Careful What I Try to Do (Brixxtone Extended Remix)
Kid You're Not Alone (Theo Kottis Remix)
Nerves Of Steel (Gareth Jones' ElectroGenetic Terabyte of Love Mix)

Erasure - The Neon Remixed - CD

DISC 1

Secret
Hey Now (Think I Got A Feeling) (Hifi Sean Remix)
Nerves of Steel (Andy Bell & Gareth Jones' Sapphire and Steel Mix)
Fallen Angel (Saint Remix)
No Point in Tripping (John "J-C" Carr & Bill Coleman 808 BEACH Extended Remix)
Shot A Satellite (GRN Extended Remix)
Tower of Love (BSB's Stella Polaris Remix)
Diamond Lies (Armageddon Turk Remix)
New Horizons (Matt Pop Extended Remix)
Careful What I Try to Do (Brixxtone Extended Remix)
Kid You're Not Alone (Theo Kottis Remix)

DISC 2

Secrets (Kim Ann Foxman's Heaven Mix)
No Point in Tripping (Can Love Be Synth Remix)
Hey Now (Think I Got A Feeling) (Hifi Sean Dub)
Careful What I Try to Do (Brixxtone Synthwave Dub)
Nerves Of Steel (Gareth Jones' ElectroGenetic Terabyte of Love Mix)
Kid You're Not Alone (Paul Humphreys Remix)
Secrets (Octo Octa's Psychedelic Visions Disco Dub)