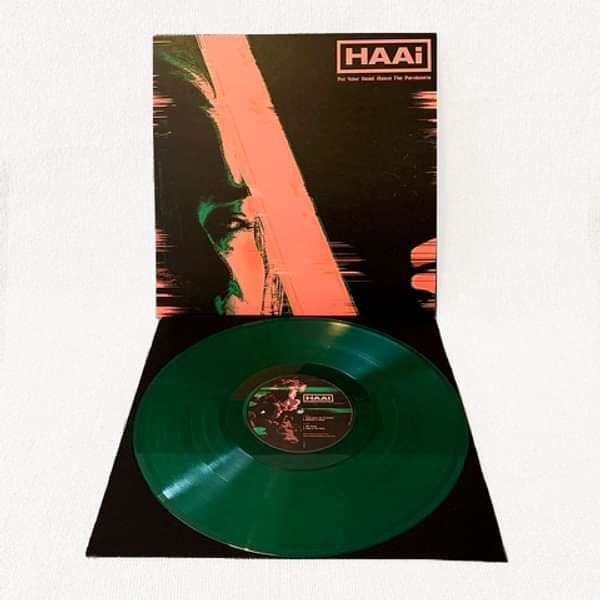 HAAi - Put Your Head Above The Parakeets Green 12" LP
A1. Head Above The Parakeets A2. Rotating In Unison B1. Bon Viveur B2. Bass Is The Place
Mute are pleased to announce the release of Put Your Head Above The Parakeets, a brand new EP from HAAi. It will be released on limited edition green vinyl and on digital platforms September 11.
This is HAAi's second EP for Mute, following 2019's critically lauded Systems Up, Windows Down. The new EP features four brand new tracks including the pseudo title track 'Head Above The Parakeets' which exudes a woozy summery heat. Meanwhile the second track, 'Rotating in Unison', embraces positivity, written in response to this year's enforced slowdown. The final two tracks take us back to the club, where HAAi is known for spinning genre bending and spellbinding DJ sets.
HAAi, aka Teneil Throssell, rose from the ashes of a disbanded psych band, where she was vocalist and guitar player and, inspired by a chance trip to Berghain, started DJing by digging into a wealth of music on the psychedelic spectrum from around the globe. Her Coconut Beats parties in Dalston led to shows on Rinse FM and Worldwide FM, and eventually to a prestigious residency at the London club Phonox where Throssell played Saturday nights for two years. As her residency came to an end, BBC Radio 1 broadcast her Essential Mix which went on to win the accolade of Essential Mix of the Year. Past winners include Flying Lotus, Helena Hauff, Nicolas Jaar and more. HAAi was then granted a monthly Radio 1 slot. The end of her residency at Phonox allowed HAAi to play shows and big festival stages all over the world, including Sonar Festival and Glastonbury. HAAi has received previous press coverage from The Quietus, Resident Advisor, Clash, NME, Mixmag and more.