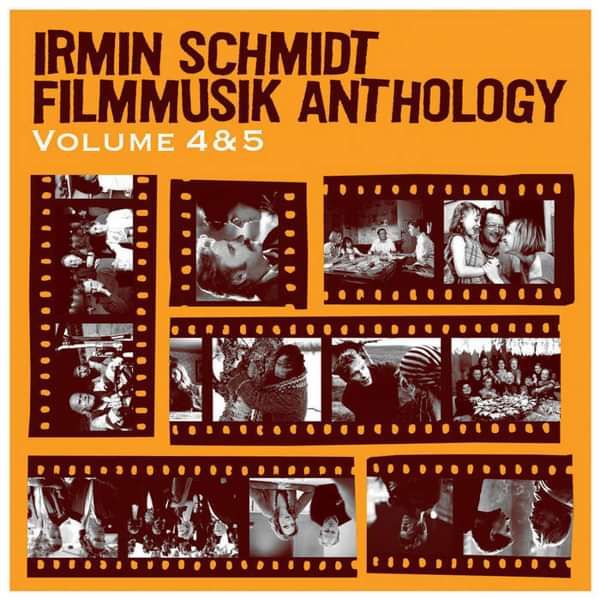 Irmin Schmidt - Filmmusik 4 & 5 2xCD
CD1:
Flavia Theme (Palermo Shooting)
Strange Luck (Palermo Shooting)
Arrow From Beyond (Palermo Shooting)
Being Dwarf (Dream Theme III) (Palermo Shooting)
Quattrocanti (Dream Theme IV) (Palermo Shooting)
Tears (Flavia Theme II) (Palermo Shooting
Falling (Palermo Shooting)
Fesco & Finale (Flavia Theme III & IV) (Palermo Shooting)
Die Letzte Prufung (Einsatz Hamburg - Die letze Prufung)
Schneeland (Schneeland)
Aaaron (Schneeland)
Ina & Aaron (Schneeland)
Tatoo (Paparazzo)
Bondage (Paparazzo)
Airport (Paparazzo)
CD2:
Exit West (Der Stich des Skorpion)
Dangerous (Paparazzo)
Coming Home (In Sachen Kaminsky)
Stiga (Bloch 5 - Ein Fleck auf der Haut)
Lied Vom Verschwinden (Bloch 14 - Bauchgefuhl)
Unheimliche Entdeckung (Bloch 2 - Ein begrabener Hund)
Tausendschonchen (Bloch 3 - Tausendschonchen)
Silbergraue Augen (Bloch 4 - Silbergraue Augen)
Abschied (Bloch 7 - Ein krankes Herz)
Verlorene Liebe Waltzer (Bloch 8 - Der Freund meiner Tochter)
Im Wald (Bloch 11 - Der Kinderfreund)
Zucker Fur Die Bestie (Zucker fur die Bestie)
Bloch Dei Bloch (Bloch 2 - Ein begrabener Hund)
Dark Morning (Bloch 1 - Schwarzer Staud)
Zicke Zick (Tatort - Wenn Frauen Austern essen)
Hinter Glas (Tatort - Wenn Frauen Austern essen)
Geisterlied (Ich werde immer bei euch sein)
Final Cut (Paparazzo)
Founder of the legendary German rock group CAN, Irmin Schmidt has been writing music for films for over 40 years, and as a trained pianist, composer and conductor, has roots in classical music, jazz, and of course in rock music.
This double CD release, Filmmusik Anthology Vol 4&5, follows 1994's Anthology Soundtracks 1978-1993 and contains a selection of Schmidt's works over the last 10 years for 20 different films for both the big screen and television. The anthology includes tracks from the critically acclaimed German TV series Bloch and Tatort and the award winning film Schneeland.
These pieces of music are a fascinating insight into the art of film score music from a veteran who has honed his craft masterfully over the years as well as being a wonderful album to just sit, relax and enjoy.
Filmmusik Anthology Vol. 4&5 also includes eight tracks from the original score of the latest Wim Wenders film, Palermo Shooting, which premiered in the Official Selection of the Cannes film festival 2008.