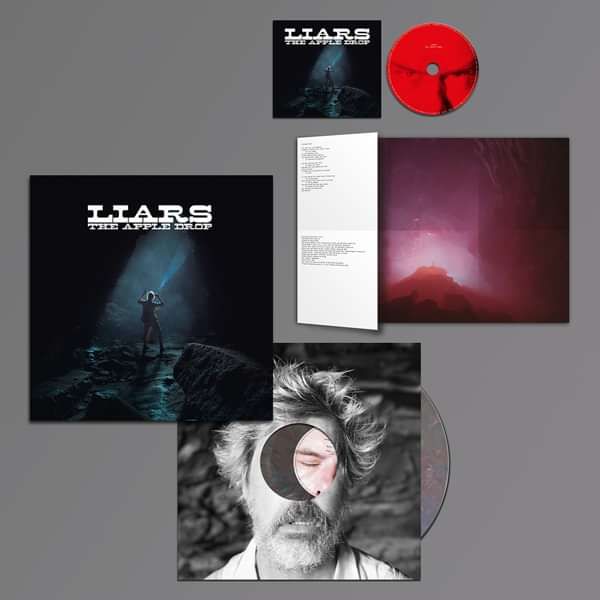 Liars - The Apple Drop - CD & Vinyl Bundle
Vinyl purchases come with a complimentary blue or red flexi-disc single.
The Start
Slow and Turn Inward
Sekwar
Big Appetite
From What the Never Was
Star Search
My Pulse to Ponder
Leisure War
King of the Crooks
Acid Crop
New Planets New Undoings
20 years on from Liars' debut album release, Mute is elated to announce the release of their 10th studio album, The Apple Drop. Out August 6th on limited edition recycled color vinyl, eco-pack CD with 16 page booklet, and digital formats.
Recorded in Australia with avant-garde jazz drummer Laurence Pike and multi- instrumentalist Cameron Deyell, The Apple Drop is a unique fusion of the archetypal band structure with experimental electronics. "Constructing these songs felt akin to dragging them through a wormhole," says frontman Angus Andrew. "I'd stretch and transform the studio sounds in the computer, pushing patterns and melodies through filters and sequencers, experimenting with probability based algorithms."
Throughout the album, rich textures overlap with engulfing ambience, before giving way to eruptive blasts of noise, crackling electronics and thrashing drums.
$37.37
Select from options below to add to basket
This bundle also includes:

Liars - The Apple Drop - LP

The Start
Slow and Turn Inward
Sekwar
Big Appetite
From What the Never Was
Star Search
My Pulse to Ponder
Leisure War
King of the Crooks
Acid Crop
New Planets New Undoings

20 years on from Liars' debut album release, Mute is elated to announce the release of their 10th studio album, The Apple Drop. Out August 6th on limited edition recycled color vinyl, eco-pack CD with 16 page booklet, and digital formats.

Recorded in Australia with avant-garde jazz drummer Laurence Pike and multi- instrumentalist Cameron Deyell, The Apple Drop is a unique fusion of the archetypal band structure with experimental electronics. "Constructing these songs felt akin to dragging them through a wormhole," says frontman Angus Andrew. "I'd stretch and transform the studio sounds in the computer, pushing patterns and melodies through filters and sequencers, experimenting with probability based algorithms."

Throughout the album, rich textures overlap with engulfing ambience, before giving way to eruptive blasts of noise, crackling electronics and thrashing drums.

This bundle also includes:

Liars - The Apple Drop - CD