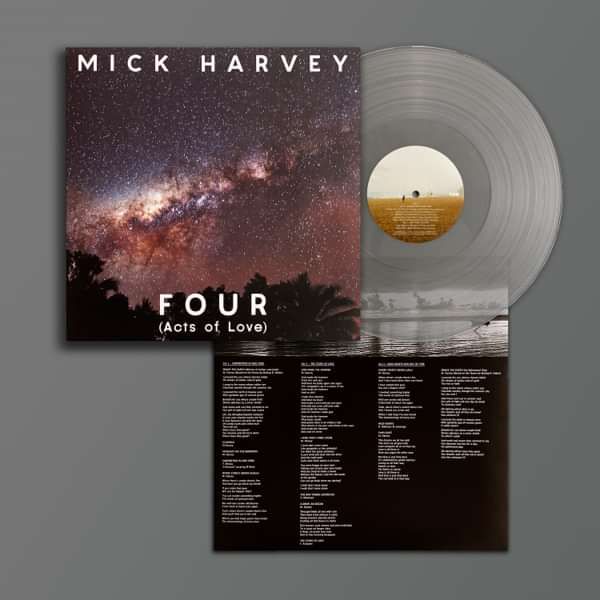 Mick Harvey - Four (Acts Of Love) (Limited Edition Clear Vinyl)
Special 15% off offer.
Mute is excited to announce the reissue of Mick Harvey's sixth studio album Four (Acts of Love) on limited edition clear vinyl, out January 13th. Limited to 1,000 copies worldwide.
Originally released on April 29th 2013, Four (Acts of Love) is a contemplation on romantic love - its loss, re- awakening, its tumultuous struggle and its place in our universe. The album is a song cycle, divided into 3 Acts, featuring original compositions by Mick Harvey alongside a song by long time collaborator PJ Harvey ("Glorious") and interpretations of The Saints' "The Story of Love," Van Morrison's "The Way Young Lovers Do," Exuma's "Summertime in New York" and Roy Orbison's "Wild Hearts (Run Out of Time)." Recorded at Grace Lane, North Melbourne and Atlantis Sound, Melbourne, Four (Acts of Love) features regular collaborators Rosie Westbrook on double bass and JP Shilo on guitar and violin.
Praise the Earth (Wheels of Amber and Gold)
Glorious
Midnight on the Ramparts
Summertime in New York
Where There's Smoke (Before)
God Made the Hammer
I Wish That I Were Stone
The Way Young Lovers Do
A Drop, An Ocean
The Story of Love
Where There's Smoke (After)
Wild Hearts
Fairy Dust
Praise the Earth (An Ephemeral Play)