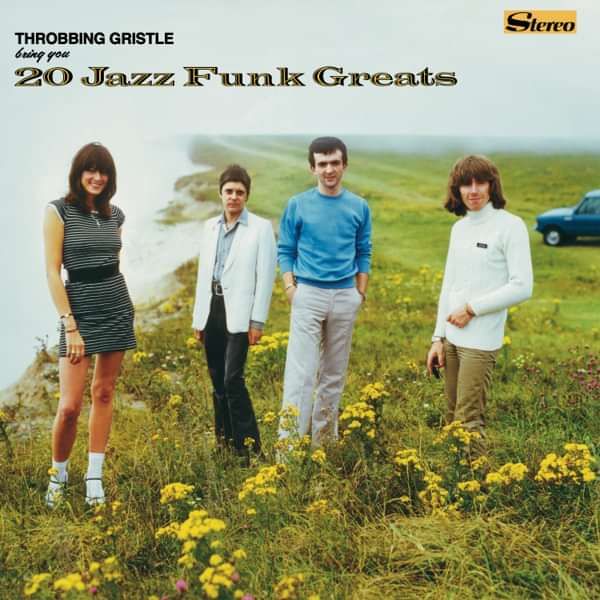 Throbbing Gristle - 20 Jazz Funk Greats Black LP
Side A
20 Jazz Funk Greats
Beachy Head
Still Walking
Tanith
Convincing People
Exotica
Side B
Hot On The Heels Of Love
Persuasion
Walkabout
What A Day
Six Six Sixties
Mute are delighted to announce a black vinyl repress of 20 Jazz Funk Greats, the landmark 1979 album from industrial music pioneers Throbbing Gristle.
The impetus for the record apparently came about from Genesis P-Orridge's mum's request that the band record something "nice". The tame cover photo shows the nattily dressed band – white disco jacket, comfy slacks, mini-skirt – stood amid flowers on a clifftop. The chosen scene of natural beauty was Beachy Head, a notorious suicide spot.
20 Jazz Funk Greats' cheerful breaching of lounge jazz and disco contains some of the band's prettiest moments on songs like the breathy "Hot on the Heels of Love". Similarly "Tanith" and "Exotica" are gentle interludes in which TG's usual jagged punctuations are kept to a minimum. You could be fooled into thinking this was indeed easy-listening industrial.
Pitchfork wrote that "20 Jazz Funk Greats finds the band waking up from D.O.A's dark night of the soul and feeling curiously frisky. Snacking on not only the titular funk and jazz, the band also takes touristic zig zags through exotica, rock and disco", ultimately describing it as a "kitsch detour toward mutant disco". Uncut Magazine wrote that "musically, it turned away from the precipice; not exactly jazz and funk, but sublimating TG's noise elements within electronic rhythms and proto-exotica." Dusted Magazine described the album as "a deliberate attempt to toy with the ideas behind marketing strategy and the purpose of musical genres."
Pitchfork ranked 20 Jazz Funk Greats at number 91 in its list of the 100 greatest albums of the 1970s. UK magazine Fact named it the best album of the 1970s, writing that "This album is a rupture. It's an open crack into the unpronounceable dimensions into which tumble important streams of 20th century pop, art and underground culture, to seethe around each other, mingling, festering, sprouting new and unpredictable forms which in turn would ooze out to infest vast sections of what comes after."